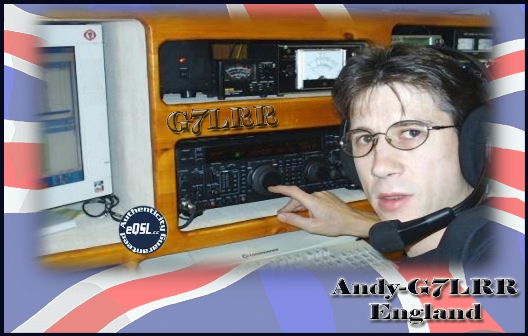 Hi my name is Andy Nielsen, I was born in 1966 in the City of HULL East Yorkshire and still live there.
As a young boy I was always playing about with radios of some sort, and as my uncle was Captain for a large shipping Company and always had an old short wave radio at home I would listen too.
I remember we would listen for hours to the shipping radio as port of HULL was a very busy fishing port in them days.
So the Tale began how I became hooked on radio.
By the age of 21 I had found the right girl for me and was married, after a few years I found myself looking for hobby again, so I thought radio again but why not become a Ham and do right as I now had a few friends that had become hams.
In 1991 I start the radio course at a local college by 1992 I had passed my B class ticket and was up and running with the call sign G7LRR which I still hold to date.
I then joined a local ham radio club and made many new Radio friends, VHF bands was very good from my home and I made many good contacts both SSB and FM ,
By then the big packet radio craze came about in the UK and as my job I was building PC's and Networks I was hooked again, soon finding my self setting up packet systems for other ham in and around my town.
I ran a private BBS and a node for 4 years , by this time the craze for packet radio seem to die a death as the internet came about "shame I know "but times run ahead of us.
I turned the packet station off and played with internet, at this time many of my ham friend's was learning Morse code for there A class ticket so I joined in getting quite good and I found myself learning other at the local radio club.
Funny thing was I never got the urge to sit the ticket myself, I knew if I did I would want new HF gear and with the birth of my Number two Son this was really bad timing money wise, and I had all ready worked more places on the old C.B years before that many had not even heard off, you know at the saying "been there done it" sort of thing but really all down to money at the time.
I was always rag chewing on the VHF bands most nights till this day then the big No NO happened as many whom are reading this page will know, yes they give the B class hams HF in the UK without the test until then HF had never come back into my mind, but I was now running my own PC Company and money was good so why not look into HF so I Brought a Small Kenwood TS 50s and loaning a TH3 MK3 Antenna was on the HF bands.
I soon got into the DX bug again thinking I now can work all them place I spoke to many years ago on the Old C.B again, I must say yes them roots are still in my mind we all started somewhere in this great hobby.
I now have many good friends all over the world and often can be heard on the 14.240 group Talking to Walt K1QS, Tony WA2JUN and company, whom always have big signals into the UK and always welcome fellow hams who drops by for a chat if you Break with your full call sign and not just burst in the middle of the QSO.
I have found by listening over the years and on HF bands and theses last few months the right way and also the wrong way to operate on HF bands.
I must say I find many kill joys with the approach to the new B Class Ticket been awarded to us I must say I find it sad and sickening.
I know something had to be done in the UK as the hobby was dyeing a death and now the HF bands are full of new station and we all have to learn somewhere.
I agree Morse is still very much used mode, but I am sure there are many and I know many that have class A ticket and never use Morse, some believe it makes them a better operator I have news for them it does NOT it just means one has one more mode to work with.
I have made many new friends over the years and it is good to hear stations with the B class tickets on HF from all over the world, I welcome all to this great hobby we all share.
I wish a lot more would remember it is a hobby and lots of others share it.
I can be heard most days on 20m chasing DX and I am well on my way to my DXCC honour roll on 20m in just under 1 year.
The best part for me about the Hobby is talking to new people on the bands Hams from all walks of life around the World.
Also I enjoy playing with Antennas while still young hi I can get up my tower very fast and work on the antenna system.
73's Andy I hope you enjoy the rest on the site and please feel free to sign the guest book.
www.g7lrr.com