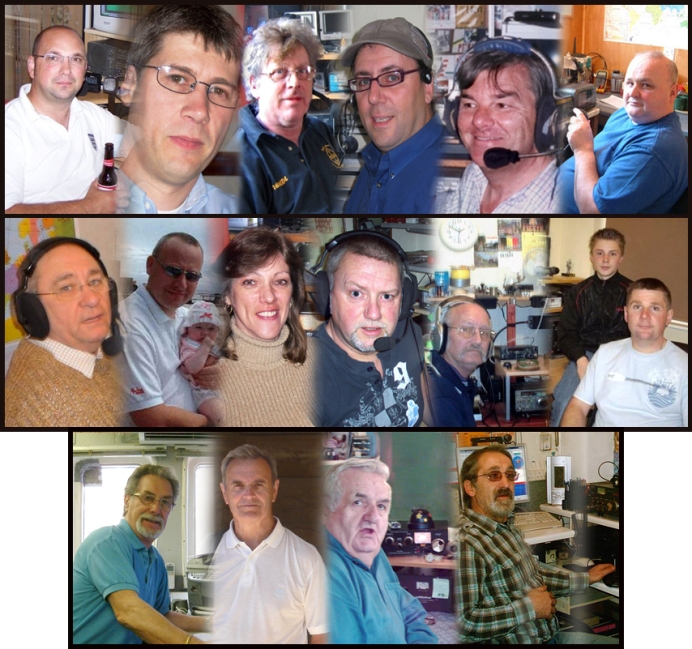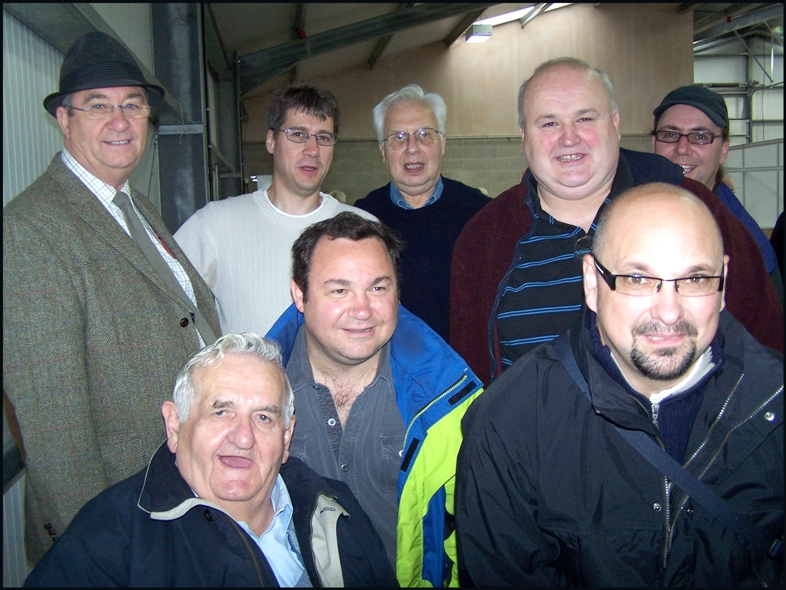 Rallies meet up of the 1.972 group 2009
Well Most of the boys have been going to the rallies
A lot of the boys turned out for the New Newark Hamfest which was a good one.
We was lucky that Gerry LA0HK turned up and we all had a good old chat.
Our Group photo guy Roger also turn up and we had a Little photo shoot
Bottom Front Left to right Trevor G1TDN, Jase M0MGF, Simon 2E0GMW, top Left to right Dave M0IOK, Andy G7LRR, Gerry LA0HK, Peter M0PDT, Phil M0VEY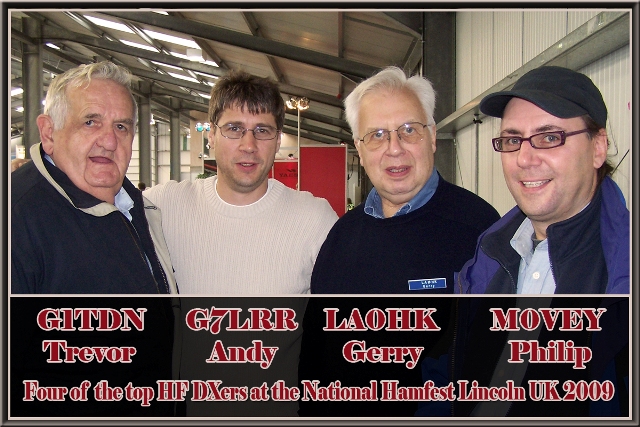 .972 Top HF DX'ers
1.972 Mhz Top Band Group
The 1.972 Top Band Group This Group is around the East Coast of the UK
The group was started by Roger-G4SEF and Roy-G4WHQ  in        1983 and is running still to this day at 6:15pm to around 7:00pm Monday   to Friday and Sundays on 1.972 If QRM is about the Group moves to around 1.979
We hope you enjoy the little write ups and please drop by 1.972 for  chat all are welcome.
There are many amateurs call into the group.
I will try and give a little information on the guys that call in on  daily basis.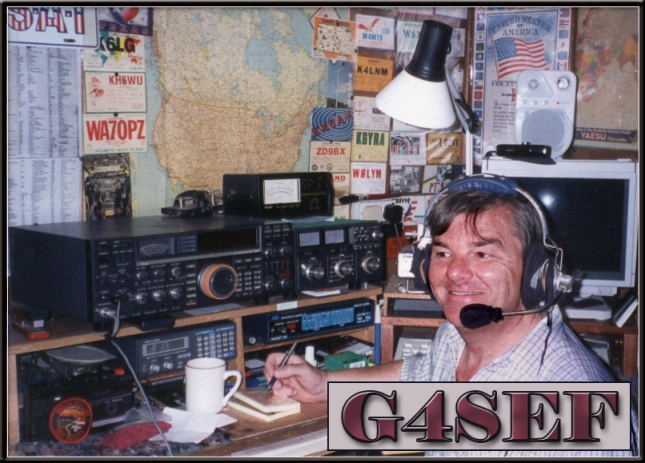 Roger G4SEF
Before becoming involved with Ham Radio, my friend told me about Air-Band Radio. He produced a little handheld air band radio, when I heard my first ?air to ground? transmissions, after that I was hooked!
I?ve been into Ham Radio since 1980; my ?B? class licence was G6ERY. I became an ?A? class licence in 1982 and became G4SEF. Most of the US boys call me the ?Special English Friend?
My first HF contact was K6YRA out in CA on 21.325. Don?t ask me why, but I specialized in working the USA; every time I turned the HF radio on, the bean was always pointing State Side. I?ve always had a fascination for talking to the USA boys, always good talkers and lots of things in common to talk about.
I?m rather proud of the fact of working 2,500 Counties in the US. It took me a long time, but made lots of friends at the same time.
The main HF equipment at this time was: Icom-781/Kenwood-TL922/TH3-Mk3 HF Beam. A 50ft crank up tower.
Sad to say, the computer has taken over my long distance chats, however, I still use Top-Band 1.972 every night to keep in touch with the local boys. By the way, I still enjoy Air band Radio!
I may get into trouble for saying this, I enjoy contesting too!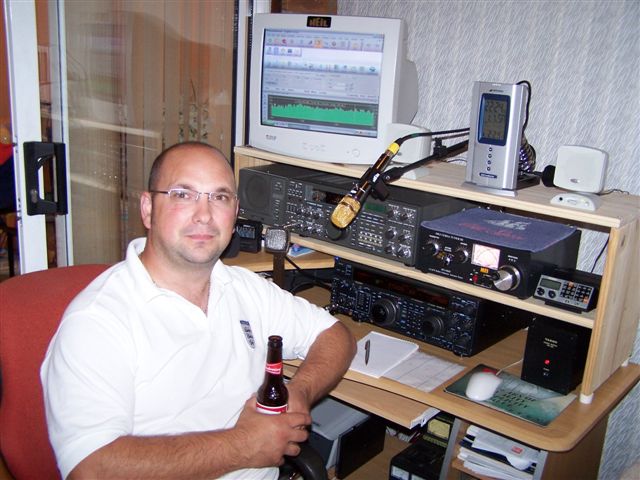 SIMON 2E0GMW
Just a bit about myself not that there is much!!
First became involved in radio back in the late 80s On CB, was not long before I got hooked on 11m SSB.
Where I had many contacts all over the world using a ranger 2950 and a 4 element mono bander from my parents home in Sutton village, amazingly I only ever had one complaint of interference!!
This was not the normal TV type of trouble I was coursing with my 400w!
The problem I had was that the church next door on a Sunday used a mic and speaker to preach to the congregation!!
And you guessed it was not the voice of god that was been heard!
It was me!
Needless to say I stopped calling CQ USA on a Sunday morning!!
Then it was time to buy my own place for me and than girlfriend steph, this was followed by the inevitable marriage which in turn led to my beautiful daughter faith, now 5 years old and I cant believe it time flies by!!.
I moved to Victoria dock also in Hull very close to the river hull,
I got my antenna up before I had a bed to sleep in, and before the neighbours moved in to their new homes! This antenna was a compromise but worked very well being the antron99!
Then I started to listen more on the amateur side of things this interested me so as the structure for amateur radio had recently changed I went for my m3 call this was a very easy exam some or all would say far to easy my call was M3GMW.
THIS CALL REALY GAVE ME THE OPPERTUNITY TO REALY ENJOY THE HOBBY.
I got myself a Kenwood TS850 fine radio, I had many contacts with this radio and made lots of new friends in and around hull and for that all over the world,
Then came the next part of my licence which I still hold at the moment being the intermediate my call being 2E0GMW.
My currant equipment being a yaesu 1000mp mk5 with a Gold line GM5 microphone
My new mini beam the mq26, and for the lower bands 40/80 I use a trap dipole and for top band I use a helically wound slope!
This antenna being recommended by Andy G7LRR and Phil M0VEY, home made with my old antron99.
PREVIOUS HF EQUIPMENT BEING
YAESU FT747GX
YAESU FT757GX
YAESU FT920AF
YAESU 1000MPMK5
YAESU FT1500
YAESU FT8900
YAESU FT2600
YAESU FT857D X4
YAESU FT897D
YAESU FT-2000 [CURRENT RADIO]
YAESU FT-11 HANDI
KENWOOD TH-7F
KENWOOD TS850SAT
KENWOOD TS870 x 2
KENWODD TS940S
KENWOOD TS2000 x 2
KENWOOD TM-241E
KENWOOD TM 255E
KENWOOD TS-480HX
ICOM IC-775DSP
ICOM IC-746
ICOM IC-735
ICOM IC-7000
ICOM IC-706 MK1
iCOM IC-706 MK2
ICOM IC-756 PRO3
THE LIST COULD GO ON AND ON!
Hope to speak soon Simon 2E0GMW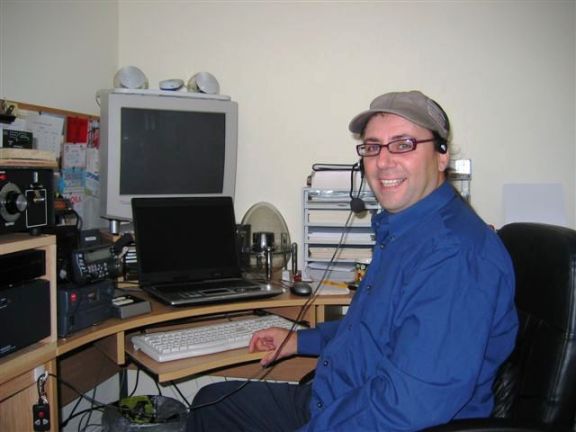 Phil M0VEY
Phil M0VEY
I became involved with CB radio in 1979 & quickly moved on from AM to SSB. I had great success with a homebrew 3 element Yagi at 18′.
When the Foundation Licence was announced I jumped on the bandwagon,
Booked a course at the Hornsea Amateur Radio Club & never looked back.
In 2002 I gained the intermediate licence.
In December 2003 I was lucky to gain the Full Licence via the last City & Guilds sitting.
I came across Roger, G4SEF & friends in 2002 operating on 1.972 & I have been visiting the frequency ever since & experimenting with various antennas.
I started off using a Carolina Windom cw160s antenna & soon found this to be inadequate for Topband Next was a long wire which gave me RF in the shack, followed by a 102′ doublet fed with 450 ohm ladder line & run as a Marconi T for Top band.
After some advice from Andy G7LRR, I ran a homebrew helical to the top of my 40′ flagpole & have had some great results.
The helical is 65′ of wire wound on a 6′ length of 1 1/2″ water pipe & 60′ sloping from the top of the antenna down to 20′ I have one counterpoise + the secret weapon.
This is a 3′ copper hot water tank; buried 4′ in the ground, It gave me a couple of S points on receive & the same on Transmit, It really was a boost, especially once it had a foot of earth covering it over.
Current antenna for 160m is a ¼ wave Inverted L .
My main radio is an Icom IC-775DSP with a Heil PR781 Microphone.
I also have an old Trio TS830 which sometimes gets a run out.
As well as the afore mentioned antennas I run a homebrewed loop for 20m & 17m, known as a ZZ wave net.
I QSL Direct or via the RSGB. I'm even good for an E QSL, an e-mail to m0veyATaol.com puts you in touch with me.
I've recently been enjoying mobile operation using a Kenwood TS480SAT.
I've had some good results on 160m with a homebrew mobile antenna. Also good results
Into VK3, VK6 & VK7 on 40m with an obsolete Diamond DP-EL40 antenna.
73s to all.
Regards,
Phil. M0VEY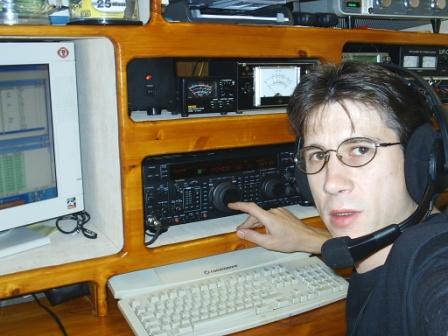 Andy G7LRR
Been around on Amateur radio since 1992 working all Modes on VHF/UHF and now I have moved onto HF and I am Enjoying 160m Top Band or as some call it the Magic Band.
My 160m top band Antenna at the moment is a Shunt Feed 75 feet Crank up tower as vertical and it seems to work very well.
Roger (G4SEF) tell me to turn it down well is that my tower I wonder No my Audio I am that loud at times his Speaker Jumps about.
Jase M0MGF
Well I am the youngster of the group, and enjoy winding the others up. My first outing into the world of radio was back in the 80's' when 40ch FM was the craze. Because I was still in Junior High School, my set up was only modest with a legal radio and a single vertical aerial. All this I traded with my neighbour for a 2m hand held. But alas I discovered the hard way that they don't bounce well down the stairs.
The next time I looked in on the hobby of radio was in 2006, when a very good friend of mine, Simon G6PRB, shown me around the club where we worked. With seeing the sparkle in my eye, he told me about the examination and license levels. To which I signed up for the foundation exam as soon as possible. This was shortly followed by the intermediate exam as soon as I had received the license for the foundation exam. The advanced exam though, that needed a weekend to read through the literature before successfully sitting the final.
Since then I have spent much of my spare time when not working on the air, and I am chasing after any DX contacts. But I always find time to pop onto the local net for a bit of banter with the local guys. I do tend to get on with most people, even the 'yellow bellies' on the other side of the riverJ.
During my short spell as a Licensed Amateur, my main transceiver has been a Yaesu FT1000MP MARK-V, but just recently this has been superseded by the new Icom IC7700. This in combination of the Cushcraft A3S Tribander has opened up the DX world for me, allowing even more contacts to be entered in to my log book.
For chatting on the local net I use a homemade Inverted L at 126 ft in length. This replaced the old helical sloper which was made to G7LRR specifications and constructed and donated by some of the other group members.
If you are driving by Hedon towards Thorngumbald, take a moment to look to your left; I am sure that will notice which my house is.
Picture will follow, once a model has been contracted for the photo session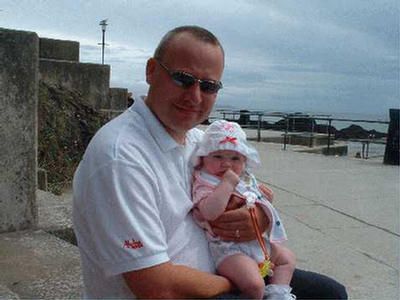 Ian 2E1ICB
Been interested in radio since 1979 back in the days of AM CB,
progressed on to the 11m SSB and have worked many stations worldwide.
In 1997 I passed my Novice Course and gained the call 2E1ICB which are also my initials, i worked VHF and UHF and enjoyed SSTV,APRS etc.
Sadly in 2000 i went QRT due to a lack of interest.
August 2008 2E1ICB made a come back with a Yaesu FT 857 in my van and a ATAS 120 antenna on the roof of my Transit van.
i enjoyed making DX and local contacts mobile and got the radio bug again, i quickly got set up at home and currently run a Kenwood TS 870 and another Yaesu FT-857 is in the shack for VHF, UHF, I have a Diamond X300 antenna for VHF and a Hustler vertical for HF.
I now have the home made Helical for top band mounted on a 12m fishing pole which i use most nights on the 1.972 net had some decent inter G contacts on this but come the summer i will be trying a few things out.
73 for now Ian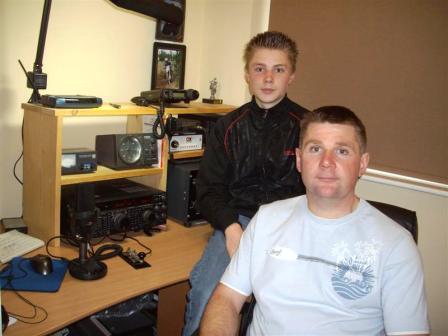 Nick G0VQO and Luke M3WLH
I was introduced to CB radio when I was at school and got my first 40 channel AM CB in 1979, from there I had the usual 11m type radios.
I was introduced to Amateur radio by G0OYQ and decided there and then that I wanted to get licensed.
I passed the RAE and 12WPM Morse test in 1994 and got the call G0VQO in January 1995.
I mostly enjoy working DX, and I am a newcomer on the 1972 net and enjoy the banter between the lads.
My Son Luke got his M3WLH call on his thirteenth birthday and he has joined in on the 1972 net on the odd occasion, he mostly works BPSK31,
his main interest is computers, you can visit his website at http://hfdxer.co.uk/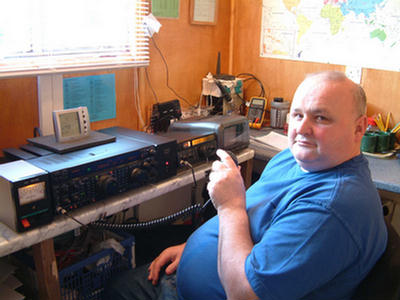 Peter M0PDT
I became interested in radio in about 1979, AM, CB Radio and had many happy hours working DX all over the world.
Then in 2002 I took the foundation licence my call sign was M3PDT.
Later taking the intermediate to become 2E0PDT both of which I took at the Hornsea Amateur Radio Club.
Then in December 2003 I was lucky enough to gain the full licence via the last City and Guilds that was held.
I first started using top band about two years ago, and today I run an inverted L, shunt feeding my 45 foot tower and the top leg of the antenna runs down my garden to a 20ft pole I also have a Windom 80 special, and a Cushcraft MA5B for higher bands.
Regards, M0PDT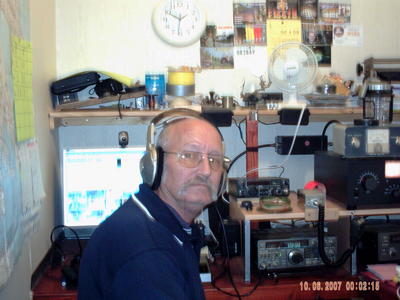 Steve  2E0NSQ
It's only a small station I have at the moment, the radio is a FT920 running 50 watts into an inverted L.
It works well on 17 20 40 80 160. Top band was the goal for me to try and get on when I was a boy of 10 or 11.
I used to listen to the radio. Since being a radio ham I now know this to be top band I was listening too.
MY hobbies are anything to do with radio eg SSTV. BPSK31.
I also like sea fishing and driving as well as camping. I also like making my own antennas and now due to the radio I have a lot of new friend's worldwide and this is what it's all about.
73s HOPE TO HEAR YOU ALL AGAIN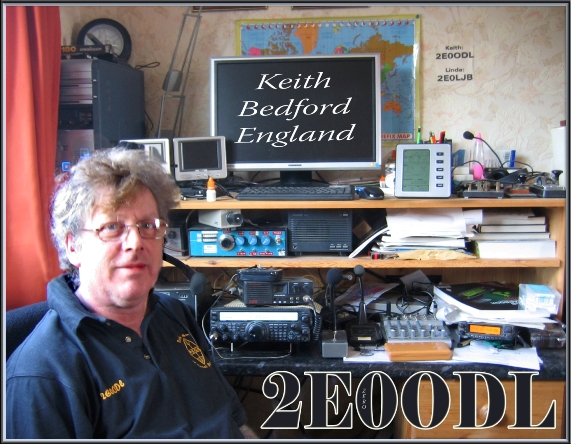 Keith 2E0ODL
I started in radio in 1975 on the dreaded CB where I remained for 30 years.Then in 2002 I decided to sit the exam for my Foundation licence, and gained the call sign M3ODL. 18 months later, having passed the exam for the Intermediate licence I was awarded the new and my current call sign 2E0ODL.
I have tried different modes of operation, including SSB but especially finding Slow Scan TV enjoyable.
I have since discovered the boys on the top band net, 1972, and have remained ever since taking part in the nightly net.
There is a lot of knowledge available from these boys, and I have learnt a lot from them, especially from Andy, G7LRR.
Thank you to all for looking, Keith.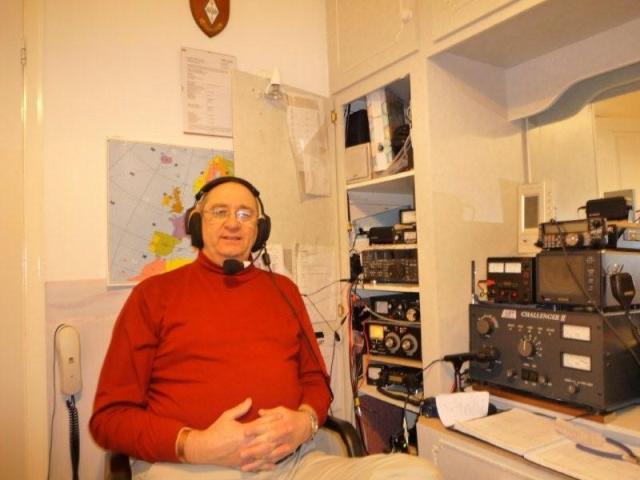 Dave M0IOK